SMITHLAND — Late-game heroics Monday night by junior Garrett Hayden in the last seconds of the fourth quarter gave the Carlisle Comets the 62-59 comeback victory over the Livingston Central Cardinals.
Hayden had a career night with 37 points but none bigger than his two free throws with 24 seconds left in the game that gave Carlisle the 60-59 lead.
The Comets were missing one of their key players in senior Blake Elder who suffered an injury in the Caldwell game last week and had to sit out.
Carlisle County head coach Brian O'Neil said Livingston County was riding momentum coming into this game, and with Elder out, someone had to step up.
"The story is Hayden tonight," O'Neill said. "Then our defense in the second half. My media guy who was on the radio tonight said that we finished on a 16-3 run that was fueled by our defense."
Livingston Central played an outstanding second frame on both sides of the ball. The Cardinals were able to hold Carlisle to only nine points while they put up 22 to get them back into the game.
The third quarter turned into an offensive exhibition. Both teams had their offenses going, and no matter what defense the opposing coach used, it just didn't matter.
Going into the final eight minutes, Livingston Central held the 51- 44 lead.
It was at that point Hayden took the game into his own hands, and he said he had one thing on his mind the entire time.
"It's more than a game," Hayden said." The Lord is better than the game. He has given me the opportunity to play the game and I am playing for Him."
With the game on the line and the gym as loud as it was all night, Hayden was able to clear out the noise and hear one thing in his mind.
"Matthew 5:9. Blessed are the peacemakers for they are children of God. It just helps take my mind off the free throws," Hayden said.
Livingston Central: Downey 27 Zaim 14
Carlisle: Hayden 37 Lathom 9
Whitaker leads Lady Comets to victoryFreshman Kierra Whitaker took over in the fourth quarter to push the lead out of reach to give the Lady Comets the 59-52 win over Livingston Central.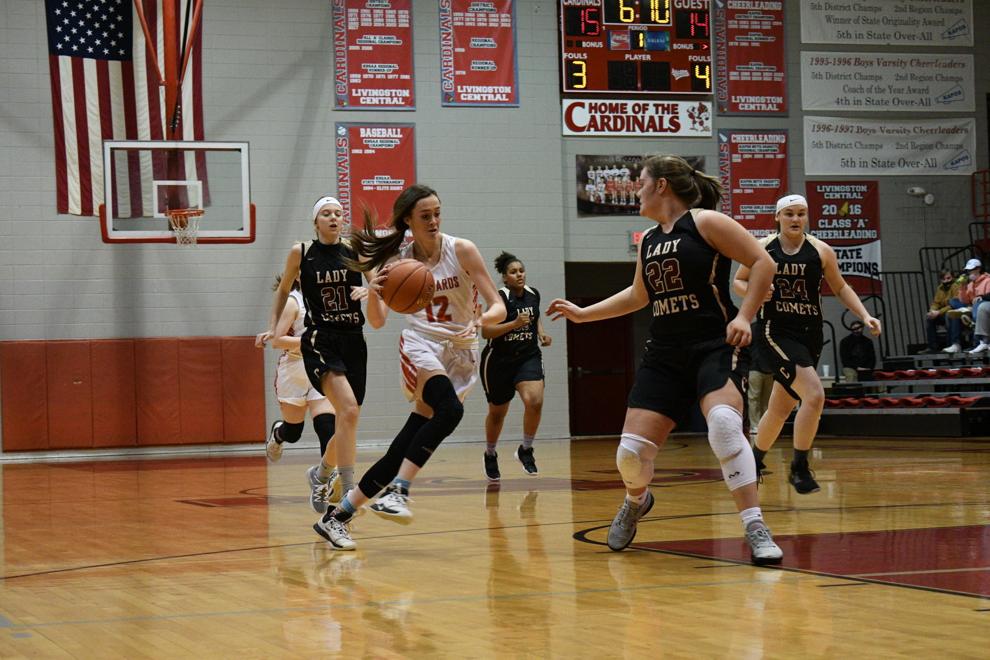 Whitaker had 22 points to lead her team.
At the half, the score was 26-26.
But in the second half, Whitaker took over, recording 11 of her 22 points.
Livingston Central kept up through three quarters but seemed to run out of steam in the final eight minutes.