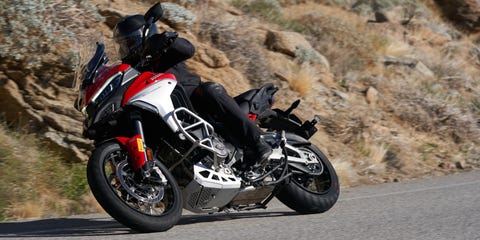 gregor halenda
"It's about a million degrees outside!" you bleet. "I can't wear my Marlon Brando-era leather jacket when I ride! I'll die of heat exhaustion! I'll just risk riding in a tank top, shorts and flip flops."
If you hear any of your riding buddies say this, stop them immediately and get them some of the gear listed below. You don't have to give up safety to ride in the dog days of summer.
While you can get all this gear via mail order, unless you are really sure about your size it might be better to go to your favorite moto-gear store so you can get the best fit. Alpinestars offers a payment plan for the gear, so the hit you take is softened, just like the gear that protects you should you fall.
Also Check Out 10 Cool Adventure Bikes
---
Advertisement – Continue Reading Below
1
Alpinestars Motorcycle Jacket
On the outside, the Alpinestars Leonis Drystar Air jacket looks like a regular motorcycle jacket, but hold it up to the light and you'll see it's slathered with flow-through mesh that gets the air moving on even the hottest days. I wore this while riding in and around the Mojave desert, and it did, indeed, keep me cool, as long as I was underway. The shell comes with a Drystar waterproof lining to keep you from going hypothermic when it rains. It comes with full CE-certified armor, all of which is constructed so that air flows through it, too.
2
Alpinestars Drystar Pants
The pants don't breathe as well as the jacket, but Alpinestars says its Andes V3 Drystar pants offer 100-percent waterproofing and high levels of breathability. "With added protection in strategic areas, these pants can adapt to all weather conditions and are fully compatible with the Andes Drystar jacket." They also zip right into the Leonis jacket above. The pants offer CE Level 1 Alpinestars Nucleon Flex Plus knee with bio-Flex hip protector compatibility. A thermal layer adds to the seasons in which you can ride. I felt comfortable riding in temps up to about 85 degrees.
3
Alpinestars Motorcycle Boots
The whole point of having big boots like these Alpinestar Corozal Adventure Drystar boots is that they protect your feet. I can attest to this firsthand: There I was, descending a narrow, rutted, silty single track in the mighty Sierra Nevada riding one of those adventure bikes that weigh about 600 pounds, when a meaty tree branch rammed into the side of my foot. Anything less than the Corozal would have meant expensive reconstructive surgery. Alpinestars says it's "a premium, multi-material adventure touring boot packed with class-leading protective features, such as an advanced polymer shin-plate and innovative lateral ankle protection with supporting biomechanical link between the upper boot and the lower foot structure." However you say it, these things are worth every nickel.
4
Alpinestars Leather Motorcycle Gloves
Alpinestars makes some nice summer gloves, like the SMX-2 Air Carbon V2s. I found that I need to order Alpinestars gloves a size larger than what is recommended by the sizing chart, but you might have a different experience. Another good reason to go into the store and try on a bunch of them.
5
Alpinestars Tech-Air 5 Airbag System
Perhaps the biggest single advancement in rider protection since the helmet, the wearable motorcycle airbag system will greatly reduce your injuries in a crash. You can read all about how the tech works here. Even though it includes flow-through mesh throughout its construction, there is a little less flow-through air under your Leonis Air Drystar Jacket when wearing it, but it's a worthwhile tradeoff for the added safety. More specifically, to get the system's CE Level 2 rating means that no more than 2.5 kilo-newtons (kNs) of force will be transmitted through the system to the wearer, according to European standards. But the Tech-Air 5 actually transmits less than 1 kN of force to the body. Since getting my first airbag jacket several years ago, I never leave home without one. Be like the majority of riders in MotoGP and Dakar and get one for your own personal carcass today
6
Aether Mojave Motorcycle Jacket
Aether (pronounced ether) was founded in 2009 by two Hollywood movie producers, Palmer West (Requiem For A Dream) and Jonah Smith (Pi). The pair "were city dwellers with a passion for the outdoors, businessmen who wanted outerwear that supported their lifestyle without making them look like they were in a lift line." They started out making ski clothing and expanded to motorcycle gear in 2014. I tried on a bunch of Aether gear at their store on La Brea Ave. in Los Angeles, but did not take any of it out riding. Nonetheless the jackets and pants felt comfortable and gave a sense of durability. They all feature D30-brand CE Level 1 and Level 2 impact protection, Aether says. My favorite item of the ones I tried on was the Mojave Jacket. It's made from waxed cotton canvas woven in Scotland by Halley Stevensons, a company founded in 1864. Under the cotton canvas is a liner of mesh for breathability.
7
USWE Bounce-Free Backpack
USWE (pronounced you-swii) was founded in 2007 by a bunch of guys in Sweden who spent their days on dirt bikes. They used backpacks to make the day last longer but hated how the backpacks flopped around all day. So they bought a Husqvarna sewing machine and went to work. "Did we know how to sew? Hell no. Did we enjoy it? Hell yes," they said. "And USWE was born." The idea with their backpacks is they stay in place while you ride, run, or otherwise gyrate. This model, the RAW 12, holds 12 liters of gear and water (not 12 liters of water, that'd weigh 26 ½ pounds!). On a recent mountain dirt bike ride, my friends had this style of backpack, while I just bungee-corded a paper bag of water bottles and apples onto the bike. They fared better. It's purpose-designed for stability during movement, so if you ride enough, this will be appreciated the farther you go.
This content is created and maintained by a third party, and imported onto this page to help users provide their email addresses. You may be able to find more information about this and similar content at piano.io
Advertisement – Continue Reading Below