If Title IX didn't exist, women simply wouldn't have equal opportunities to play the sports that we love. And I personally wouldn't have had the experiences of being recruited to a top college basketball team or winning a national championship. Or had the prospect of being drafted into the WNBA—perhaps, God willing, even as a professional team's No. 1 pick.
Winning the NCAA national championship in April was special. Last year, we came really close and then we lost in the Final Four.
Our attitude afterwards was: This is it, we can do it this year. We had a special team and we worked so hard. So for that buzzer to sound and to know we had just won a national championship, was amazing.
A lot of young kids, especially young girls, saw my emotional moment in 2021 after we lost against Stanford. But they have now seen how we were able to turn things around, come back and win this year. I think it shows them the passion that we play with. And, that it's okay to show emotion.
I hear comments from people saying: "Why are you trying to show emotion? Just play the game." Emotions are how you play the way that you play. You want it so badly that emotions just come out.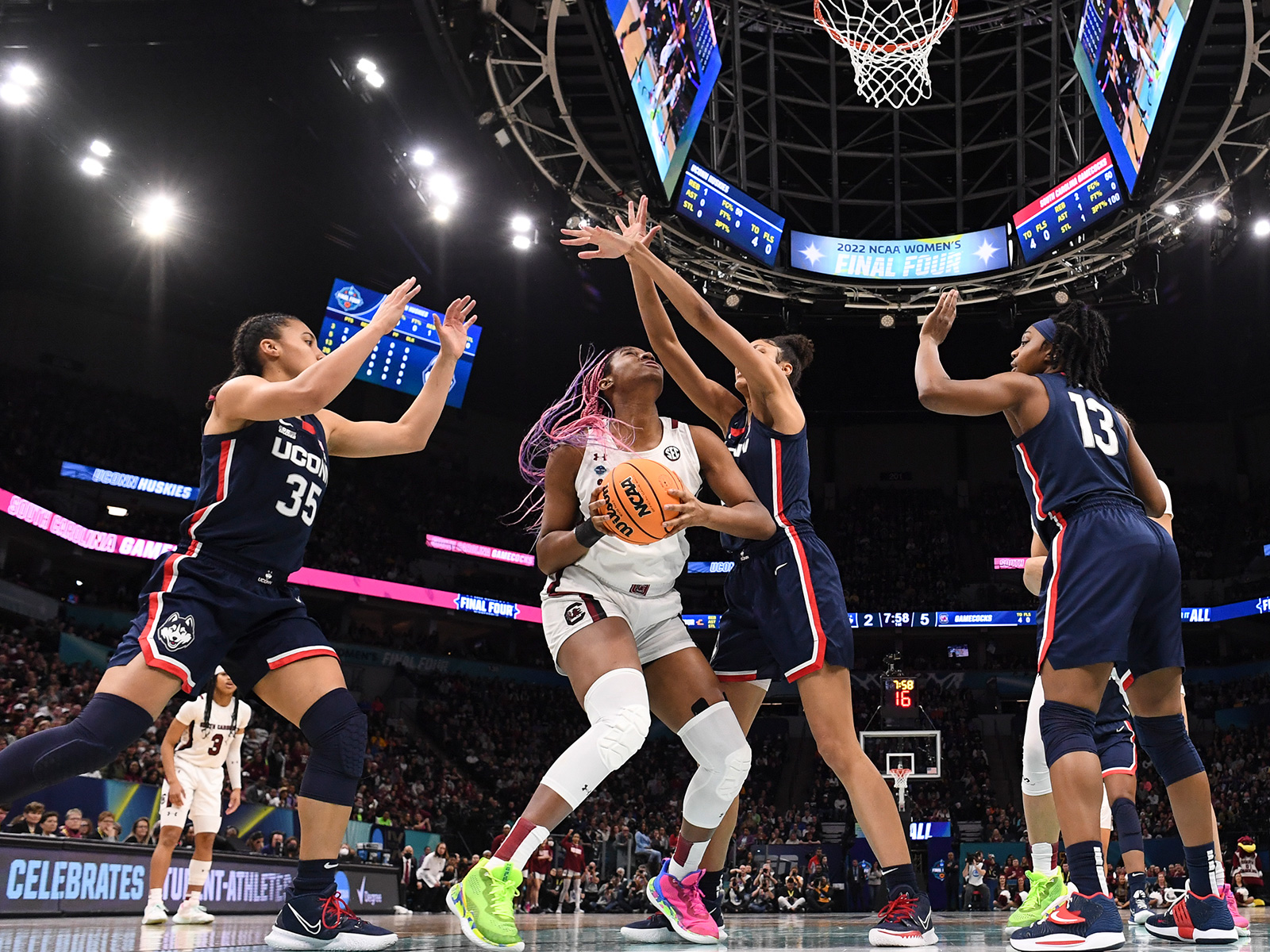 It's good for young women to be able to see that, and that you can turn around any situation.
Had Title IX not been passed, my life would have been very different.
From St. Thomas to South Carolina
I knew that basketball was what I wanted to do since I started playing. My sister is two years older than me and watching her play in St. Thomas in the U.S. Virgin Islands, where I grew up, made me really want to try it.
I didn't know how to play at first. I was shooting with two hands and I could barely get the ball in the basket, but I was hooked and in love with the game.
I played against a lot of guys. There were perhaps two girls on the team, if that. But that definitely motivated me, because all the guys played extra aggressively, or they wanted to show out a lot more, when they were playing against the girls. Even some of the dads in the stands would say, "You can't let her score on you!" They tried to make it their goal not to let me score, because I'm a girl. So I think any time that I scored, I was showing them that I was just as good.
When I was in eighth grade, I started watching the WNBA a lot more. During the younger grades, my focus was on college basketball. In fact, it was when all the college coaches began trying to recruit me, that I started to realize this was really going to be something good.
When I first stepped on the University of South Carolina campus and met my teammates at that time, it was just amazing. Then I talked to Coach Dawn Staley and the entire coaching staff and I loved how they talked about the program. I just knew it was the school for me.
Team spirit and becoming the player I wanted to be
A lot of players on our college team are close, and we've built a really strong relationship off the court that's helped us to succeed on it. It's definitely helped build our chemistry on the court. We want the best for each other. It makes a team really special when everybody wants each other to succeed.
I give credit to all my team, but Olivia Thompson, Laeticia Amihere, Zia Cooke and Brea Beal have really impacted me, because we all came in together, and that's been a strong bond that I've had since I walked on to campus.
Coach Staley has, of course, been there from the beginning too. Even before I committed, she told me that she was going to help me be the player that I want to be. I will always remember that. She really motivates me on the court; she knows what to say and she knows how to get the best out of me.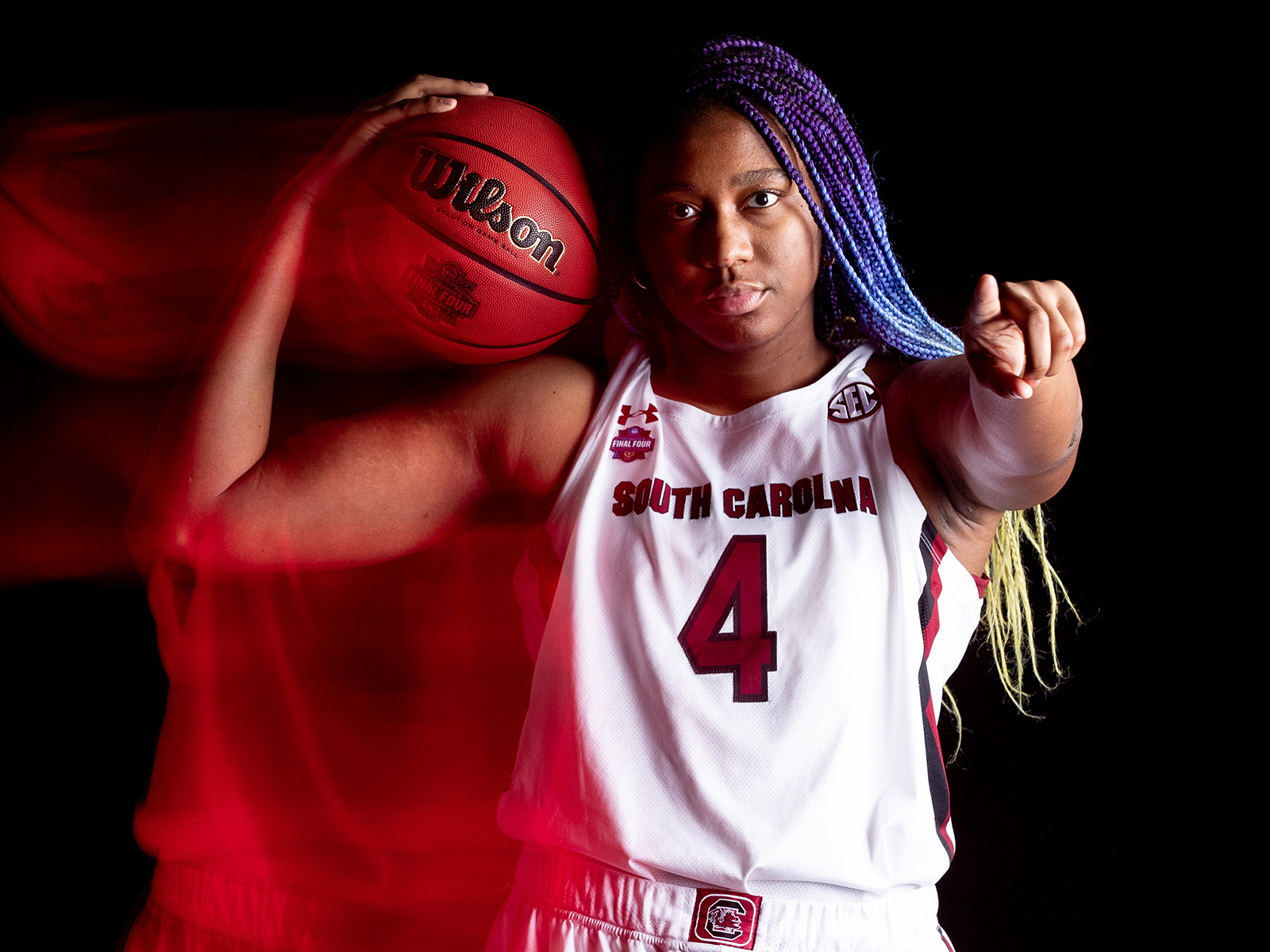 She has also helped me to grow mentally. She tells us to be who we are and do what we do. She says that we will get the recognition that we deserve as athletes, as a unit and in women's basketball in general. Coach Staley is one to use her voice. And she's helped us to be confident enough to do that too.
After we won the national championship, Coach Staley said: "Thank you for coming here." And I told her: "No, thank you for being my coach and wanting to recruit me."
The WNBA draft and the future
I am likely to put my name in the 2023 draft. I have worked very hard and I'm excited. It's exciting to be the projected number one pick. I just thank God for blessing me.
I love all the teams and I enjoy watching them all play. I'd just say that the team that wants me? I'm all yours. Growing up, I watched all these players, in college teams and now the WNBA. So to even be able to play against them is a "whoa!" moment.
A'ja Wilson [of the Las Vegas Aces] is someone who is particularly inspiring to me because she went to South Carolina, she was successful there and now she's in the league and killing it. We play the same position so it's almost like I'm following in her footsteps.
As projected number one draft pick, I feel it's important not to put too much pressure on myself. You just have to let the game come to you, no matter what level you're on.
Respect for women: what needs to change
Some people still think that what we're playing isn't really a sport. There are always comments like "Who cares? No one watches women's basketball. Go back to the kitchen."
Some people don't look at what we're doing as a real talent, which is kind of crazy. When it comes to younger girls, I pray they don't look at those comments, or let it deter them from what they want in life.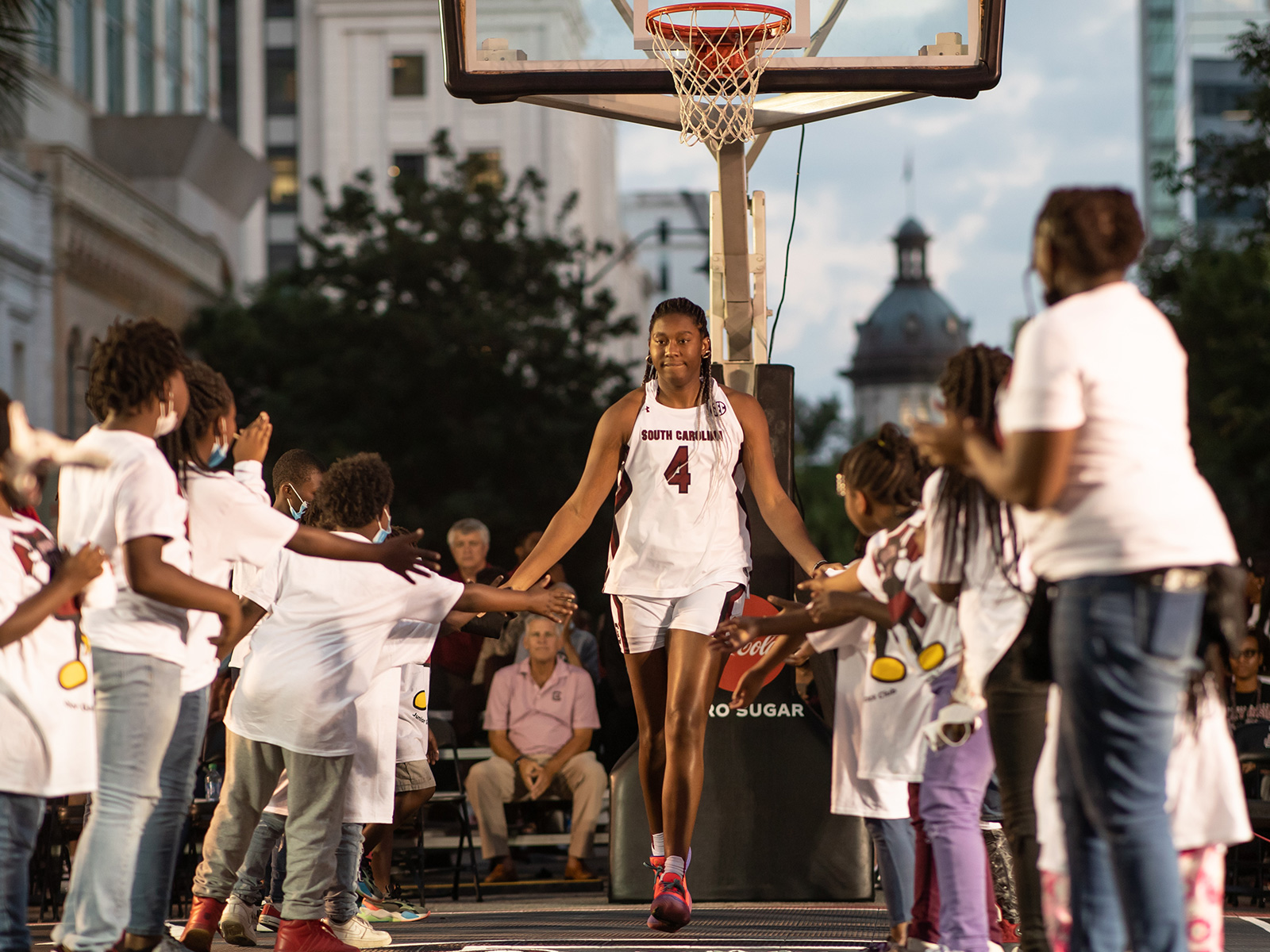 There are always going to be people who share their negative thoughts no matter what you're doing. So to be able to just stay strong and do what you do is extremely important.
Sometimes, as Black female athletes, we don't get the attention that we deserve, when it comes to the media and even some awards. On social media, some people always have something to say. I try not to look at those things, but it's a reality, so it's something that Black female athletes have to think about.
It's not really just about respect as a Black female athlete, it's respect for Black people in general, and especially Black women. I think there's almost a stigma around Black women, as if we might not be as good as other people.
The moment that we are able to get the respect we deserve as Black females, I think the respect for being a Black female athlete will also change.
The Importance of Role Models
Inspiring young Black women is definitely one of my hopes and goals. I talk all the time about representation and how important it is to be able to see a Black person or someone that looks like you getting awards or in high positions. It motivates you because it makes you feel that you can do it too.
I have people like that who motivate me, like [basketball player] Candice Parker and [tennis players] Serena Williams and Naomi Osaka. There are just so many women who have done a lot to get where they are.
There are a lot of improvements that still need to happen when it comes to women's sports, but I think from where it started to where it is now, Title IX has helped women a lot.
For now, I'm just continuing to work on my overall game. I don't think you can't ever really say that you're satisfied with what you have. There's still a next level to play on. So I will just continue to work on everything and try to get better.
It took me a while to learn about basketball and balance in life. I think there's pressure overall when you're going into a professional league, no matter what sport it is.
I would say my greatest contribution to sport has been my determination, passion, and my ability to not forget where I came from. I mean, I came from this little island where I started playing basketball. So I hope that people can look at me and think: My dreams are possible because she's been able to do that.
Aliyah Boston plays forward for the South Carolina Gamecocks women's basketball team. Amongst many other accolades, Boston was the winner of the 2022 John R. Wooden Award. She begins her senior year at University of South Carolina in 2022. You can follow her on Instagram @aliyah.boston
All views expressed in this article are the author's own.
As told to Jenny Haward.