Indian on ice.
"Two of Chevy, one of Ford," with a touch of titanium to add to the witch's brew of piston mix. Pistons for the fastest motorcycle under 1,000cc the Bonneville Salt Flats have ever seen. The bike in question was a highly modified 1919 Indian Scout, built by Burt Munro, an old codger from New Zealand with a dream.
The collection of "Offerings to the God of Speed" in his garage underlay his mantra that, "If it's hard, work harder; if it's impossible, work harder still. Give it whatever it takes, but do it."
Pistons and other parts blown to smithereens, and then others cast by him to perfection. In 1967 he was 68 years old and taking nitroglycerin pills to combat heart disease, when he hit a new world record, averaging a shade under 185 mph at Bonneville on his home-built machine.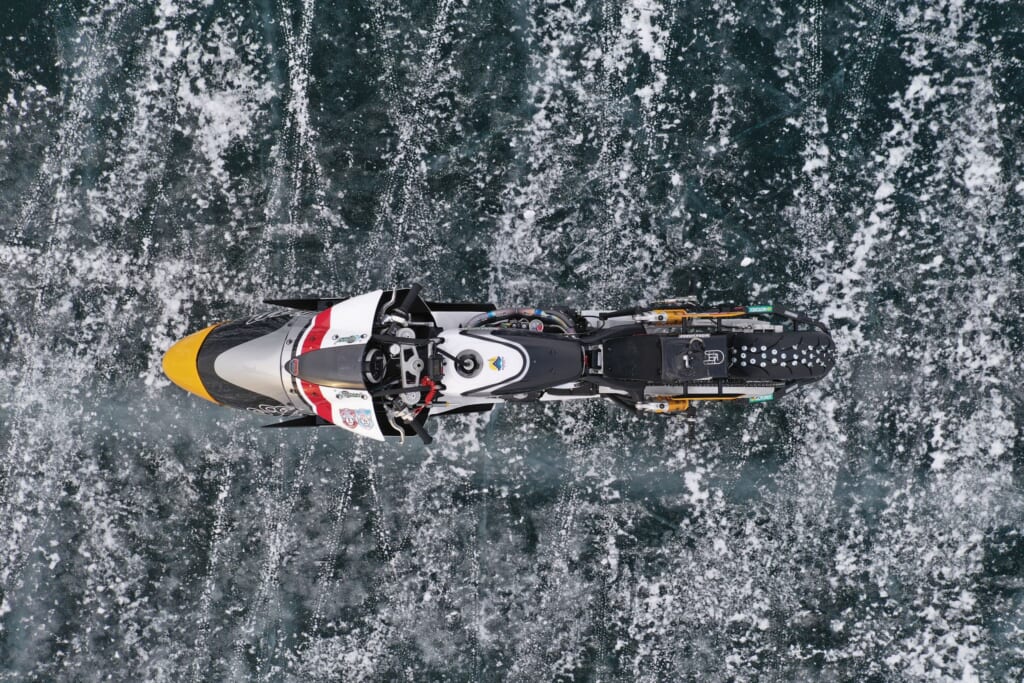 He may have had furred arteries, but he sure as hell also had an unparalleled pair of solid-brass balls, knit together with skill, talent and perseverance. He had forged the barrels, pistons, flywheels, cams and followers, and lubrication system, and even carved the tread off normal tires with a kitchen knife to make his own version of highspeed slicks for the custom Indian Scout. As well as making the streamlined bodywork.
For a man for whom, "Danger is the spice of life," there was no other way as "You live more in five minutes on a bike like this going flat out than some people live in a lifetime." This was not his first visit to Bonneville, or his only world record, but it is the one that still stands today.
Munro called Indian Motorcycles, of Springfield, Massachusetts, the finest motorbikes in the world. And if stories of derring-do are where it's at, he may well be right. He set a precedent for bespoke "streamlined bodywork and engineering tweaks to these American steeds which were eventually taken up by Indian itself.
In 2019, to celebrate the 100th anniversary of the launch of the Indian Scout, they teamed up with Brice Hennebert of Workhorse Speedshop to build a bike to compete in a drag race called the "Sultans of Sprint."
Appropriately enough, the focus is on proving that bikes that start out slow can end up fast (just like Munro's 50 mph Scout, which ultimately peaked at nearly 200 mph). Brice came up with the moniker "Appaloosa" for the build, taken from the name of a breed of very fast, wild, spirited American horse that holds the record for the fastest 4.5 furlongs (~990 yards); and he then took a modern Scout and built the bejesus out of it.
After stripping the Scout, the original fuel tank was cut and narrowed to create a cover for a new aluminum fuel cell holding just enough for sprint racing. Then a new sub-frame setup was created altering the riding position to tilt the rider forward over the front wheel and provide better support under hard acceleration. The swingarm was extended to provide better traction and mated to fully adjustable suspension from Öhlins, who also provided steering dampers and the front fork.
With a combination of a bespoke Akrapovič titanium exhaust, racing ECU, Power Commander, direct intake, Nitrous Oxide Injection system and MOTOREX oil, engine power was increased to 135 hp—the maximum per competition regs—with Beringer Brakes providing the stopping power.
Randy Mamola climbed aboard as pilot and the team then started shaking out their creation, seeking to dial in the details after a 700-hour build to maximize performance. Not surprisingly, Appaloosa's first outing at the Sultans of Sprint in 2019 confirmed the need for continued development.
And Brice found the perfect Mad Max opportunity in the Baikal Mile, run on the frozen surface of Lake Baikal in Siberia, the oldest and deepest lake in the world. Cue: Appaloosa 2.0, an even meaner machine, which recently made its racing debut.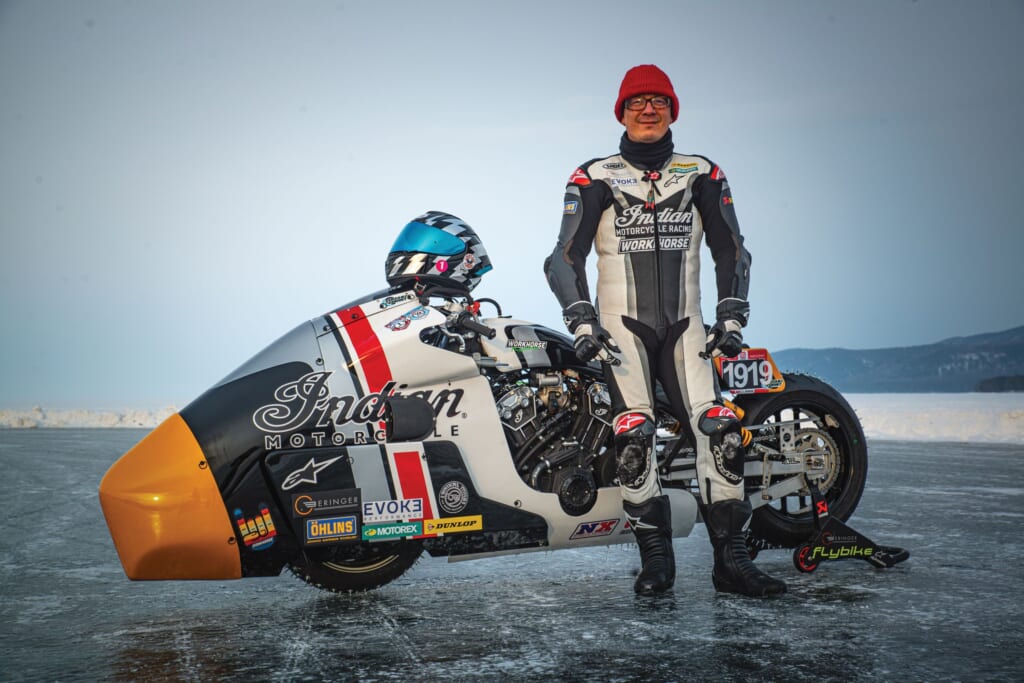 "I couldn't believe how amazing this event looked," says Brice. "For a start, the lake is huge. Over 600 km long and 80 km wide, holding more than 20% of the world's freshwater. It was just so different from anything I am used to, thousands of miles away and with extreme temperatures."
"On top of that, you have all these people building crazy machines, from mad one-wheel contraptions to luxury vehicles on tank tracks, who come together to share the fun of pushing themselves and their creations to the limit. I just had to be a part of it, and it was amazing to get the go-ahead when I put the idea to Indian Motorcycle."
So back they went to the tuning board, this time to tweak the streamliner body, intakes and tires to cope with temperatures below -20C. Needless to say, hand-inlaid metal studs in the tires were required. By the final day of racing they were hitting around 115 mph on the ice before an electrical gremlin stifled continued acceleration and higher top speeds.
Brice says, "Racing on ice is hard, and this is the most incredible thing I've tried to do. I've learnt so much and had a hell of a lot of fun doing it." We've asked Indian when 3.0 is coming, because DQ and Maxim want a ride,.

Tags: Baikal Mile bikes Custom Motorcycles Indian Motorcycle Lake Baikal magazine article motorcycles racing Rides russia